Kalam Hospital
The main aim is to provide treatment to the poor at the lowest cost possible.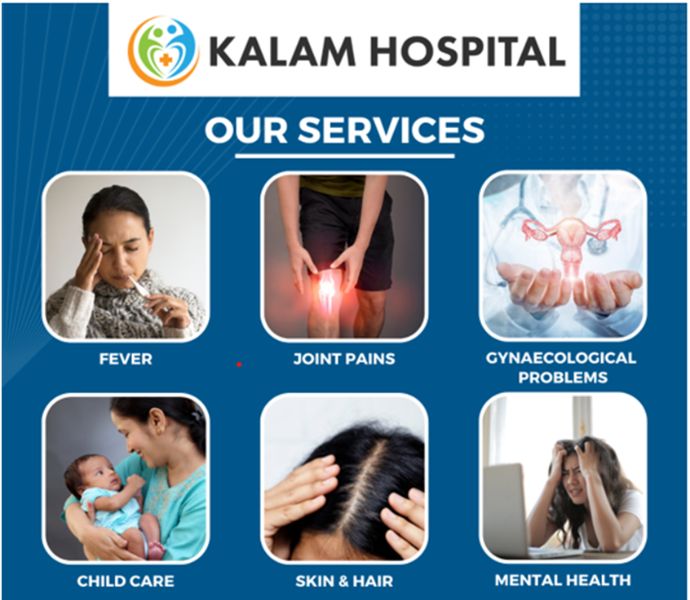 We have other Specialists who will be visiting on need basis and other part time Doctors for attending Online Video Consultation
Kalam hospital
In order to carry out our health activities, Today's Kalam Foundation established Kalam Hospital, which is registered as "Kalam Health Care" and was started on June 1st 2021.
Kalam hospital is a service-oriented hospital and the main aim is to treat the patients at minimum cost.On an average 25 to 30 patients utilize the hospital's services each day. The services provided by our hospital are treatment for fever, cold, cough, Viral fevers, typhoid, Skin related cases, gynecological cases including Pregnant woman's monthly check-ups and pediatric patients. Further, we provide medicines and Lab tests as well on discounts.
We organize medical camps every month covering patients with specialties in Gynaecology, paediatrics, ENT, physiotherapy, orthopaedic, Diabetology (specially focused on elderly patients) and Dermatology for patients with skin problems. Until now we have organized 20+ Medical Camps and provided services to over 2000+ patients.
Nurses Training Programs
Kalam Hospital provide nursing training along with basic stipend to women who have passed 10th grade. The duration of the training period is 6 months and with the provided training and knowledge, they can do nursing job in small clinics and hospitals and earn up to Rs 5000 per month. Until now we have given training for 18 women.
 Team Details:
 Dr. Shaik Sabera- MBBS, DGO, DNB(Obstetrician) & Infertility Specialist (Reg no: 96131)

 Dr. Ahmed Ali – MBBS, Fellowship in Diabetology (Reg no: 12698)

 Dr. Haroon Khan – BPT, CMET, CMFR Physiotherapist (Reg no: L-43594)

 Dr. Zareena Shah – BEMS, MD(EH)

 There are other 10 more visiting Doctors depending upon cases and requirement.

 We have 2 full time nurses and 1 pharmacist and a manager for managing day-to-day activities.

Get in Touch.
Today's Kalam Foundation
203, Aziz Mansion Apt, St Ann's Women's College Road, Santosh Nagar Colony, Mehdipatnam, Hyderabad, Telangana - 500028
Email:info@todayskalam.com
Together we can make a difference.